CM VON HAUSSWOLFF - MAGGOTS / MASKAR
Laton, 2006
[experimental electronic]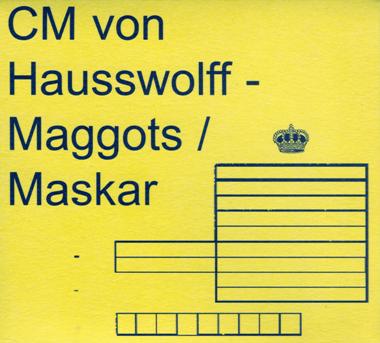 Концептуальный релиз шведского "частотного" война и Короля Королевства KREV Карл-Майкла фон Хаусвольфа
Если первый альбом из этой серии (Laton 031) был посвящён жизни крыс, то второй - жизни личинок. Диск опять состоит из трёх треков. Опять сюрприз - к диску прикладывается пакет с обжаренными личинками тайских жуков. Это было экспортировано непосредственно из Тайланда,
Swedish frequncy war-loard, Carl Michael von Hausswolff has nearly worked over 20 years in This border situations that occur in daily life and music experience. He blurs the boundaries between traditional classifications using radios, movement dedectors, telephones, surveillance cameras, sonartechnologie and other appliances from the arsenal of equipment that can be procured by certain (vetted) persons. Interferences, interruptions and interdependences are various ways of altering conditions. Beside, CM von Hausswolff with Leif Elgren is co-founder of the selfproclaimed "The Kingdoms of of Elgaland-Vargaland" (KREV) that were found on 27th may 1992. They encompass all areas of no-mans land, terretories between national boundaries on both land and sea, digital and mental spaces. Ownn national anthems, passports, flags, coats of arms and ministers was produced and set up.
Maggots / Maskar
Worms / Larver
Critical / Kritisk