HELEN BLEDSOE - NIKOLAI RUBANOV - VITALI ZAITSEV - ALEXEY LAPIN - VLADIMIR SHOSTAK - MARCUS GODWYN - THE WAY
DOM Records, 2007
[новый джаз]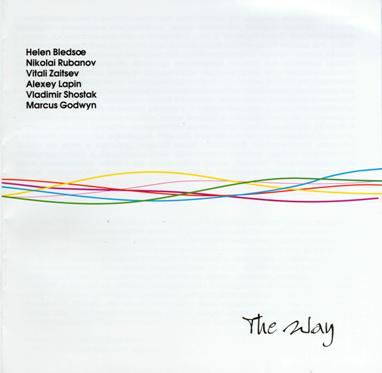 Helen Bledsoe - flutes
Nikolai Rubanov - bass-clarinet
Vitali Zaitsev - trumplet
Alexey Lapin - piano
Vladimir Shostak - double bass
Marcus Godwyn - drums
Musical and sound producer - Alexey Lapin
Recorded at Petersburg Recording Studio by Alexey Barashkin, summer 2006
Mixed, edited and mastered at A&S Recording by Alexey Lapin

Часто приходится слышать, что российская экспериментальная
импровизационная музыка - продукт поздней советской эпохи,
эстетическое выражение тогдашней интеллигентской "фиги в кармане" и,
мол, актуальность этой музыки осталась далеко в 1980-х. Это, доложу я
вам, мнение скороспелое, идущее от недоинформированности. В Москве,
может, оно и так, но на широкой российской сцене то в одном, то в
другом конце страны возникает всё больше музыкальных проектов, по
формальным признакам (инструментарий, язык импровизации, характерные
приёмы) джазовых, но по сути относящихся к "новому джазу" во всех его
разновидностях - от несколько старомодного уже фри-джаза до новейшей
"неидеоматической импровизации", до того, что в западной практике
последнего десятилетия именуется ёмким словечком "импров". Вот и
санкт-петербургский международный проект с участием пианиста Алексея
Лапина, бас-кларнетиста Николая Рубанова, в "мирной жизни" известного
как участник рок-группы АУКЦЫОН, британского мастера ударных
инструментов Маркуса Годвина, солистов оркестра Мариинского театра
Виталия Зайцева, Владимира Шостака и живущей в Германии американской
флейтистки Хелен Блэдсо, работает в этом же ключе, балансируя между
чистой спонтанной импровизацией и композиторско-импровизационной
музыкой, когда выписанные на бумаге музыкальные идеи смешиваются и/или
чередуются с эпизодами радикально свободного полёта музыкальной мысли.
Альбом "The Way" - коллекция из девяти треков, в которых контрастность
используемых музыкальных средств не может затмить внутреннего единства
идей, из которых, как из кубиков, собирают свою общую музыку несколько
совершенно разных по стилистике, набору влияний и стилю музыкального
мышления инструменталистов. Каждый трек - достаточно продолжительный
"саундскейп" (звуковой ландшафт), создающийся сугубо конвенционными
средствами посредством сугубо акустических инструментов, которые,
впрочем, употребляются в основном сугубо неконвенционными способами.
Заметьте, я всё время избегаю употребления слов "джазовый авангард". И
не зря. Почётное звание "авангарда", т.е. музыки, которая не продаётся
(и не потому, что её не продают, а потому, что её не покупают), ныне
перешло к совсем другим видам музыкальных поисков. И слава Богу. То,
что делает санкт-петербургский проект - это просто новый джаз. Одно из
лиц джаза, каким ему быть в XXI веке.

Кирилл Мошков (Cyril Moshkow),
главный редактор журнала "Джаз.Ру"
The way
Dedication
Awakening
Unspiral
Eclipse
Across the storm
Stay still
Mind
Off