HYBRYDS - DREAMBIENT (CD + DVD)
Aquarellist, 2008
[darkwave, ambient]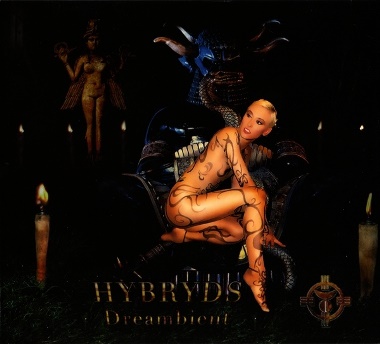 CD

Music : Magthea, Sven Germeroth, Darin Kalinsky, Mik Schuppin.
Vocals : Madeline Arndt.
Additional vocals on Yuki: Katharina.
Text : 3, 6 by Che Gozin; 1b, 4, 8 by Madeline Arndt.
Yuki: traditional Japanese songtext, other words by shy contribut

DVD

Models : Maide, Kristine, Sandra, Oksana and Inge.
Ophelia underwaterscene shot by Sven Germeroth.
All other video shot with a Sony Handycam.
Edits in Final Cut Pro and Photoshop by Sandy Viktor Nys
HYBRYDS is a Belgian ritual-esoteric project, which in the early 90-s released it's most significant album "Music for Rituals" on the cult label Artware run by Donna Klemm (R.I.P.). They have reached the peak of creativity in 90-s with their classical discs "The Ritual Should Be Kept Alive" parts 1 & 2, "Soundtrack For The Aquarium", recorded for the Antwerp water park, "Dreamscapes From A Dark Side", "Tectonic Overload". In 2000 the female member of HYBRYDS, Yasnaia, leaves the band, and Magthea is busy with his project NA-DHA for some time.

The new album of HYBRYDS, "Dreambient" is based on exploration of the female characters from the Pagan past: archetypes of the seducer, the demon, the girl, the whore, the slave, the mistress, the priest, the mother... The music of the project has become more accessible for uninitiated listeners: traditional ambient-ritual basis is enriched with rhythmic electronics, melodic synthesizer tunes and even guitar parts. Vocals are now done by Madeline Arndt from the German darkwave/gothic band Schattenkinder.

Audio-CD is supplemented by a DVD containing a visualization of the subconscious flow of religious and erotic archetypes. The release is packed in a double-digipak with a booklet.
CD

Opheilia / Ulunda 8:25
Woman 7:44
Snow 11:01
Satyr 8:44
Invasion 4:59
Babel 11:53
Yuki No Fura Machio 8:26
Every Night 8:00
DVD

Opheilia/Ulunda
Night
Satyr
Babel
Snow
Woman