СЕРГЕЙ КУРЁХИН - США (2CD)
Solyd Records, 2012
[free jazz, contemporary jazz, free improvisation]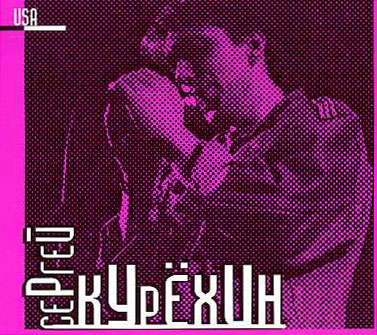 Сергей Курёхин - фортепиано
Борис Райскин - виолончель, флейта
Джонатан Креймер - виолончель
Иван Шумилов - флейты
Дин Эвенсон - флейта
Юрий Каспарян - перкуссия
Дадли Эвенсон - ручная арфа
Двойной альбом состоит из записей, сделанных в 1987 и 1988 годах в СССР и в США – сольных и в содружестве с американскими музыкантами.
Почти все записи издаются на компакт-дисках впервые, некоторые – вообще никогда ранее не издавались. Часть записей ранее была выпущена в США фирмой Soundings of the Planet и переиздана сейчас в России с любезного разрешения этой фирмы.
В альбом вошли программа «Зарядка в психушке», фонограмма концерта в городе Тусон, а также записи, сделанные с Борисом Райскиным, Джонатаном Креймером, Иваном Шумиловым, Дином Эвенсоном, Юрием Каспаряном, Дадли Эвенсон в Ленинграде, во время приезда туда группы американских музыкантов.
Как и во все альбомы серии СЕРГЕЙ КУРЁХИН, в этот диск вложен эксклюзивный фотобуклет, составленный, на этот раз, из снимков знаменитого питерского мастера Вадима Конрадта.
Диск 1.


1-7. Зарядка в психушке – 58.41

Bonus tracks


8. Sergey's Dream – 11.42
9. Perestroika Peace – 3.47

Диск 2.


1-7 Концерт в Тусоне – 57.44

Bonus tracks


8. Leningrad Lights – 3.57
9. Glasnost Sonata – 4.35
10. Beqond Borders – 6.29
11. Reprieue – 1.15